A contemporary metal roofing coating system from Watkins Construction and Roofing gives you an inexpensive way to repair or modify your old metal roof.
The Conklin MR Complete waterproofing system prevents roof leaks and rusting, is energy efficient, is aesthetically pleasing, and it will make your flat or low-slope roof last longer!
Jackson MS Metal Roofing Experts
Watkins Construction & Roofing is your hometown, certified metal roofing company. We offer free metal roof inspections and estimates, as well as metal roof repair, metal roof replacement, or metal roof restoration estimates to any residential, multi-family, or commercial building in Jackson, MS, and the surrounding areas.
FREE METAL ROOF INSPECTIONS

HOW DO YOU KNOW IF YOU NEED A METAL ROOF REPLACEMENT?

There can be many indicators that you may need to replace your metal roof. Some of the more common signs are: your roof being old, rust or discolored areas, loose nails, flashing, or fastenings, roof leaks.
Watkins Construction and Roofing have trained metal roof inspectors who can spot these signs of roof damage that may be hidden out of sight. These professional inspectors can help figure out whether the damage is significant enough for a full metal roofing insurance claim and roof replacement or if a roof repair is the better option for your metal roof.
Our staff is professionally trained, reliable, and effective. We pride ourselves on providing the best roofing materials available from the metal roof manufacturing industry.
WHAT IS METAL ROOF RESTORATION?
A contemporary metal roofing restoration system from Watkins Construction and Roofing gives you an inexpensive way to repair or modify your old metal roof.
The Conklin MR Complete waterproofing system prevents roof leaks and rusting, is energy efficient, is aesthetically pleasing, and it will make your flat or low-slope metal roof last years longer! 
If your metal roof is not extremely damaged, you may be a good candidate for a metal roof restoration. This is a complete waterproofing system for metal roofs that inhibits rust, stops leaks, and provides an energy-efficient, long-lasting, and attractive finish coat for many additional years of outstanding protection.
Our system is an effective method for preserving an existing​ metal roof without the need for costly metal repair or a full metal roof replacement.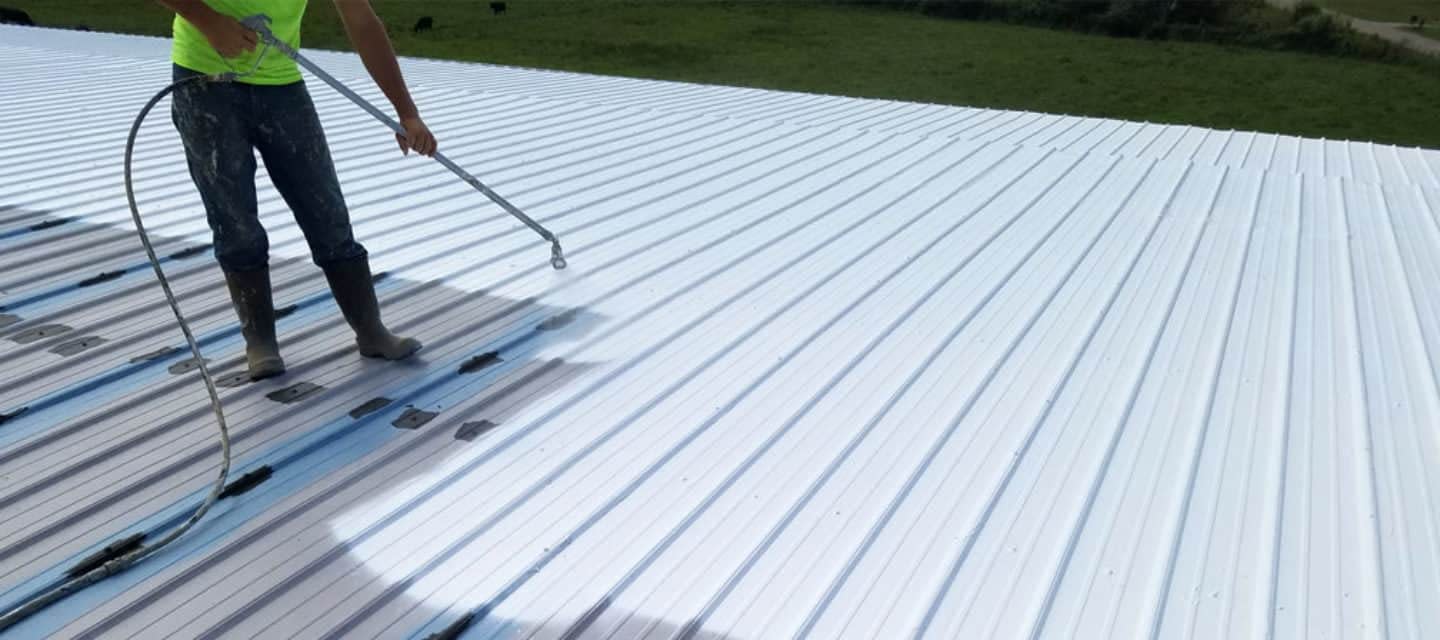 SAVE ENERGY & SAVE MONEY
Our Metal Roofing System reflects up to 80% of the sun's UV rays!
Being energy-efficient and hail-resistant means that this system fits many local "cool roof" regulations. These statutes are found in the building codes of cities like Jackson, Madison, and Byram, MS and can result in energy rebates from utility companies.
AFFORDABLE QUALITY, HIGH PERFORMANCE
Watkins also offers a Fabric-Reinforced Roofing System to waterproof metal roofs, using a seamless tough acrylic coating embedded inside. With this lightweight roofing product, tough skin, your roof can resists cracks, splitting and rupturing that can cause roof leaks and interior damage.
Our system's ENERGY STAR rating and resilience make this a perfect option for your home.
TESTED. PROVEN. TRUSTED.
Watkins has been roofing the state of Mississippi for 20 years and we've built a trusted reputation with our thousands of happy clients.
Conklin Roofing Systems have been tested, proven and trusted by building owners nationwide since 1977.
Even though your main metal roof structure is the main consideration during a roof replacement, there are many other parts of your home that need to be inspected for problems as well. These include:
• Seals around skylights that keep water from leaking in.


• Vents need to be checked for screens that keep debris and bugs out.


• Gutters and downspouts should be inspected for proper connections, clogs, and possible damage. These issues could make water back up and rot your roof, run into basements, or onto the foundation.


• Materials (such as flashing) that help control the flow of water need to be checked. They help keep water from seeping into your home's walls, which can potentially cause mold and/or structural damage.
• Your roof should also be checked for algae, mold, or other organisms growing on your roof.
• Damage from hail or tree damage should be part of any metal roof inspection.

Great job! Watkins provided me with outstanding services. The roof looks great. The installation crew was professional, courteous, and detail oriented.
Excellent service! The rain didn't keep them from getting the job done! Fenton and his crew were outstanding! Definitely recommend!
Watkins provided excellent service in replacing our shingles. They were very efficient and professional throughout the entire process. I would highly recommend their services.
SATISFACTION GUARANTEED
You don't pay us until your project is completed to your satisfaction!
WE KNOW MS ROOFS
Our crews have 20 years of experience installing metal roofs of the homes and businesses of Central Mississippi!
FREE ESTIMATES
You can trust us to give you a fair, honest, and upfront roof estimates and we'll happily answer any of your questions during any stage of the project!
One of the biggest projects you can undertake for your home is a metal roof replacement. Sometimes regular metal roof maintenance just isn't enough when your metal roof is old or has sustained major storm damage from wind or hail.
When you need a professional metal roof replacement, look no further than local elite metal roofing contractor Watkins Construction to help you make sure your new metal roof is done right! Servicing the Jackson, Brandon, Madison, and Ridgeland Mississippi areas, we offer a large selection of metal roof colors.
HOW TO IDENTIFY A PROFESSIONAL AND TRUSTWORTHY ROOFING CONTRACTOR IN THE JACKSON, MS AREA?

1.  They must be licensed by the State of Mississippi Board of Contractors.
2.  They must be fully insured. General liability insurance is required to be a part of the Mississippi Board of Contractors and it protects your home from unforeseen circumstances related to your project.
3.  They must have manufacturer certification. Contractors must meet minimum requirements put forth by the manufacturers, as well as financial credibility through Dun and Bradstreet credit checks.
4.  They must have field supervision. Many homeowners are all too familiar with the results of poor workmanship. Select a contractor that will monitor your project with non-working field supervision and quality control to ensure that the labor team is held to a high standard.
5. The contractor must be accredited with the BBB. By selecting a contractor that is accredited you will know that they are held to a higher standard of trust and accountability with their customers.
6.  They should not require any deposits for any kind of work. You should never have to pay a contractor any money before all of the work is completed to your satisfaction.
Watkins Construction and Roofing complies with all of the guidelines listed above. Please feel free to reach out to us if you have any questions – we believe in transparency and always work to build a foundation of trust with our customers before we ever step foot on your roof!
Request a FREE Metal Roof INSPECTION & ESTIMATE!
GET A FREE ESTIMATE TODAY!