DON'T REPLACE YOUR METAL ROOF…
RESTORE IT!
A contemporary metal roofing coating system from Watkins Construction and Roofing gives you an inexpensive way to repair or modify your old metal roof.
The Conklin MR Complete waterproofing system prevents roof leaks and rusting, is energy efficient, is aesthetically pleasing, and it will make your flat or low-slope roof last longer!
WHAT IS METAL ROOF RESTORATION?
A complete waterproofing system for metal roofs that inhibits rust, stops leaks, and provides an energy-efficient, long-lasting and attractive finish coat for years of outstanding protection.
Our system is an effective method for preserving an existing​ metal roof without the need for costly metal repair or replacement.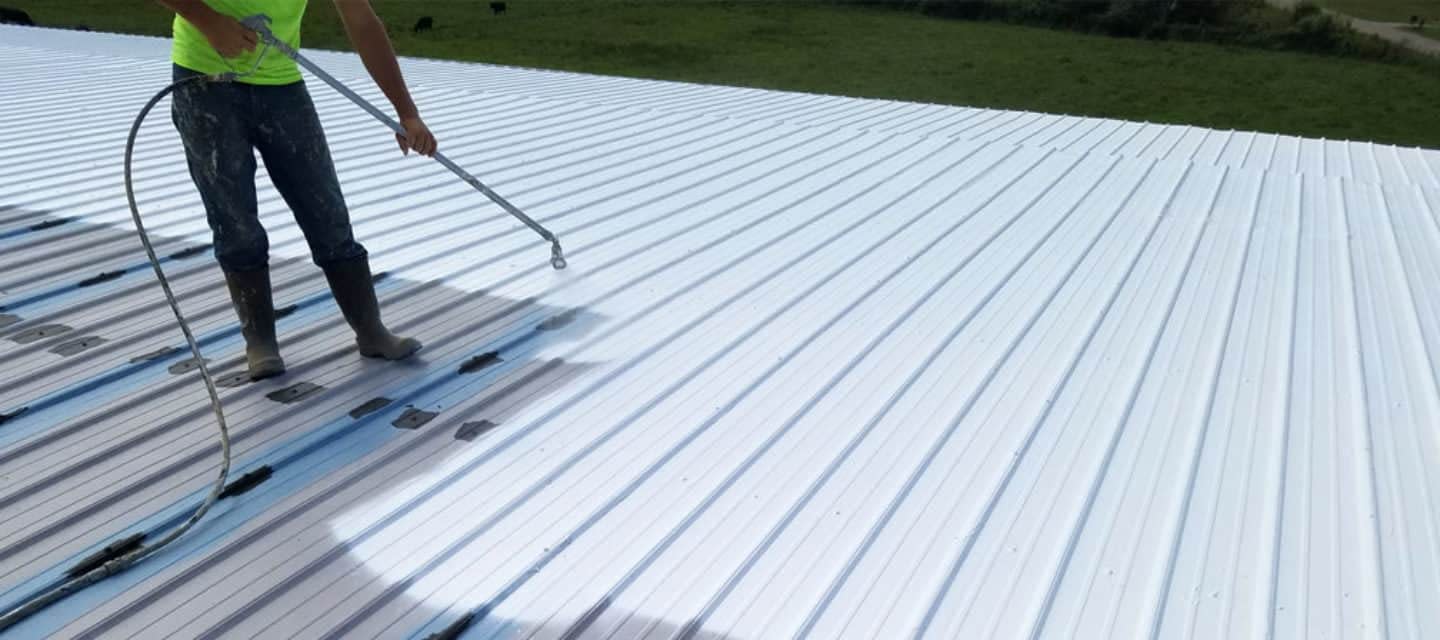 SAVE ENERGY & SAVE MONEY
Our Metal Roofing System reflects up to 80% of the sun's UV rays!
Being energy-efficient and hail-resistant means that this system fits many local "cool roof" regulations. These statutes are found in the building codes of cities like Jackson, Madison, and Byram and can result in energy rebates from utility companies.
AFFORDABLE QUALITY, HIGH PERFORMANCE
Watkins also offers a Fabric-Reinforced Roofing System to waterproof metal roofs, using a seamless tough acrylic coating embedded inside. With this lightweight roofing product, tough skin, your roof can resists cracks, splitting and rupturing that can cause roof leaks and interior damage.
Our system's ENERGY STAR rating and resilience make this a perfect option for your home.
TESTED. PROVEN. TRUSTED.
Watkins has been serving the state of Mississippi for 20 years and we've built a trusted reputation with our thousands of happy clients.
Conklin Roofing Systems have been tested, proven and trusted by building owners nationwide since 1977.
Great job! Watkins provided me with outstanding services. The roof looks great. The installation crew was professional, courteous, and detail oriented.
Excellent service! The rain didn't keep them from getting the job done! Fenton and his crew were outstanding! Definitely recommend!
Watkins provided excellent service in replacing our shingles. They were very efficient and professional throughout the entire process. I would highly recommend their services.
SATISFACTION GUARANTEED
You don't pay us until your project is completed to your satisfaction!
WE KNOW MS ROOFS
Our crews have 20 years of experience roofing the homes and businesses of Mississippi!
FREE ESTIMATES
You can trust us to give you a fair, honest, and upfront cost and we'll happily answer any of your questions during any stage of the project!
Request a FREE Metal Roof INSPECTION & ESTIMATE!
GET A FREE ESTIMATE TODAY!